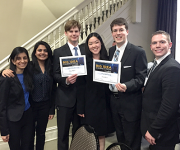 Since its inception in 2009, the Randall Family Big Idea Competition has been offered to all University of Pittsburgh undergraduate and graduate students across all schools and departments. It is an experience-based learning opportunity that encourages Pitt student to form their own interdisciplinary teams, develop a product and pursue bringing their ideas to market.
This year two of the top-winning teams worked with School of Dental Medicine faculty, alumni and student consultants with the aim to improve dental technology for students, faculty, and patients.
Dr. Charles Sfeir, Associate Dean for Research, served as a mentor for the grand prize winning team, OXI-DENT, which received $25,000 toward the development of their technology. Pitt students consulted with Dr. Sfeir on an idea to treat peri-implantitis and referred to Pitt Dental alumnus, Dr. Gary Machiko (DMD '82) to have him provide commentary about peri-implantitis in the video presentation.  The group proposes that the application of their OXI-DENT coating on dental implants prior to insertion will stop and prevent inflammation that frequently results from the dental implant procedure.
The Pitt student team, OCULEARN, placed first in the People's Choice Video competition and won third prize overall in the competition. The team incorporated footage filmed in the School of Dental Medicine's simulation clinic for a high degree of authenticity in their video.  OCULEARN's idea to develop a virtual 3-D environment program to track learners' movements is aimed to provide real time instruction to dental students in the clinic and at home by tracking students' movements and providing feedback. The group wanted to thank everyone involved and added "the input from dental students was tremendously beneficial to developing, validating, and demonstrating our idea".