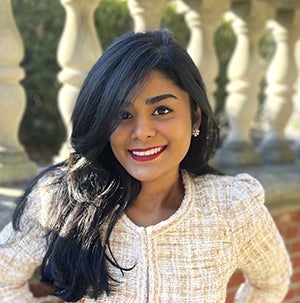 Pitt Dental Medicine DMD Class of 2024 student, Dr. Shobena Jeevan, has been selected as a Schweitzer fellow for 2023-24.
Her project will address the impact of nutrition on the dental care needs of children in underserved areas. The scope of the project goes beyond oral health literacy to include the five core principles of social justice and to include parents in identifying the impediments to their child receiving appropriate oral health care. Dr. Jeevan will further curate resources and individualize the help that each child will need.  
"As the author, Paulo Coelho said in his book, The Alchemist, 'every person on the face of this world has their own personal legend; he/she should strive to achieve it; because one's personal legend is a person's only real obligation.' With his strong words echoing in my mind, I believe that my childhood—the school of hard knocks—has prepared me to be the person I am today. I aim to be the person who helps a child in dismay—the person who is fond of children and yearns to be of service to them, in any way I can." —Shobena Jeevan, BDS.