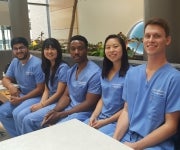 The Bridging and Bonding Mentoring Program brings alumni and students together for a meal and will begin again in January 2020.
Pitt Dental Medicine alumni who are interested in this amazing opportunity can host a meal in your home or at a restaurant to provide an opportunity to engage students by sharing your experiences in dental medicine.
Alumni also are invited to take part in the Office of Student Services Second Look Day reception on January 16, 2020. Prospective students are invited back to Pitt for a second look before deciding on a dental school. The reception will give the prospective students an opportunity to talk with Pitt Dental Medicine alumni and faculty.
Alumni who are interested in helping with either event should contact Nancy Poe at poen@pitt.edu.