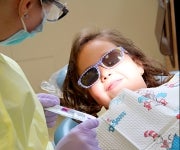 Tanya Cheeseman, fourth-year Pitt Dental student, teaches Summer Smiles patient, Abby Carlin, about proper brushing technique.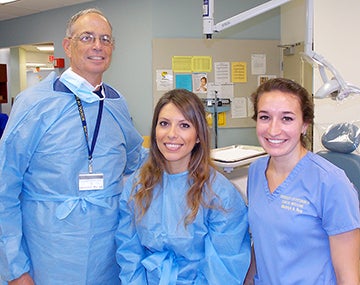 The second annual Summer Smiles event took place at Pitt Dental Medicine on July 22, 2016 in the school's Department of Pediatric Dentitstry. 
Held for the first time last year, Summer Smiles provides free exams, cleanings, fluoride application and radiographs to patients who participate in the annual Give Kids a Smile Days here at the school. Summer Smiles also is open to other uninsured children and adolescents in the metropolitan Pittsburgh area before they begin the school year. 
Summer Smiles is made possible through a gracious and substantial donation from Dr. Edward Korenman, a 1978 graduate of the School of Dental Medicine and his wife Jan. Dr. Korenman, a part-time faculty member in the Department of Pediatric Dentistry, made the gift to support an annual summertime one-day event to give free care to children. The first Summer Smiles event was held on August 21, 2015.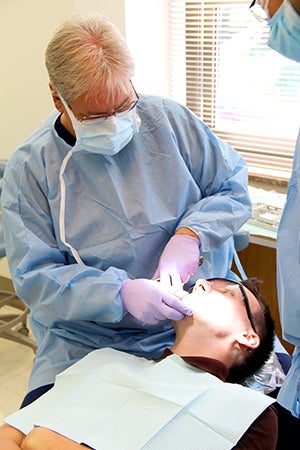 Pictured at top are 
Pediatric Dentistry faculty members 
Dr. Edward Korenman (DMD '78) and Dr. Danielle Cooper (DMD '13, Pedo '15), joined by Ms. Madelyn Rea (Class of 2018). Pictured at the bottom are faculty member, Dr. Michael Hanna (DMD '87), and Steven Jack, one of many patients who received care at the event.