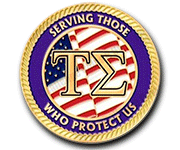 Veterans Day, November 11, will soon be here. Please remember the homeless veterans of our city. In their youth, these brave men and women gave their all to protect the freedoms that we enjoy. They paid a great price and now are suffering from physical and mental disabling wounds that make it impossible for them to maintain a job, a home, and even a family. In many cases the reward for their sacrifices has been abandonment by those whom they served. Many of our current brave, young vets are returning from their "in country" deployments with physical and psychological disabilities, only to be forced into a world of homelessness occupied by their brothers-in-arms from former wars. Veterans account for 25% of this country's homeless population. Some support is available to help them into transitional and permanent housing, but there is no money to help them meet the basic needs of things like towels, dishes, eating utensils, blankets, toiletries, etc.  
The Alpha Chapter of Tau Sigma Military Dental Club, at the University of Pittsburgh School of Dental Medicine, is a club organized by military-sponsored students who will serve in various branches of the armed services upon graduation. Every year, the club conducts a campaign seeking  to help our homeless veterans in the Pittsburgh area. We are hoping to raise as much as possible before Veterans Day on November 11th, 2016. All of the proceeds collected are used to purchase gift cards to be donated to Shepherd's Heart Veteran's Home in Pittsburgh: a transitional housing shelter dedicated to helping our local homeless veterans. The gift cards are distributed to the veterans before the Thanksgiving holiday.
When you make a donation of $25 or more, you will receive a "challenge coins" in recognition of your support of homeless vets.
We give our sincerest thanks to everyone who will make a donation to our cause, helping us to make this another successful year of supporting these abandoned veterans.