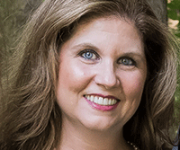 Dr. Pawlowicz joins us as the General Practice Residency program director.
I am pleased to announce the addition of Dr. Elizabeth C. Pawlowicz (DMD '93) to Pitt Dental Medicine. She will join us as the program director of the General Practice Residency at the University of Pittsburgh Medical Center (UPMC) Dental Center and as an assistant professor in Restorative Dentistry at the School of Dental Medicine. As an active alumnus, she has a unique perspective and is providing a new enthusiasm and energy, while reshaping the residency program as a cohesive part of our school. She will be a part of a number of new initiatives designed to bolster our relationship and service line with UPMC, linking dental medicine with all of healthcare in new ways.   It is an exciting time for our school and I am very pleased to have Dr. Pawlowicz join our team.  
Dr. Pawlowicz attended Franklin and Marshall College in Lancaster, Pa., for her undergraduate education and the University of Pittsburgh for her doctorate in dental medicine. In 1994, she completed her General Practice Residency at the UPMC Dental Center. A life-long Pittsburgher, her dental career has encompassed both solo and group private practice.  Dr. Pawlowicz's academic and clinical interests include comprehensive oral rehabilitation, advances in bonding techniques for direct and indirect restorations, obstructive sleep apnea considerations for the dental professional, nutrition effects on oral health, pediatric oral growth and development, and treatment considerations for special populations. She lives in Mars, Pa., with her husband, John Pawlowicz, DMD, and their two children. Please welcome her as she joins the Pitt Dental Medicine family and expands opportunities for our residents, students and patients.  
Sincerely, 
Bernard J. Costello DMD, MD
Dean and Professor