Students from the Pitt Dental Medicine American Dental Education Association (ADEA) Student Chapter recently had the incredible opportunity to attend the 2023 ADEA Annual Session & Exhibition in Portland, Oregon! We joined students and faculties from dental schools around the country to celebrate ADEA's 100th anniversary under the inspiring theme of "Believe I'm Possible."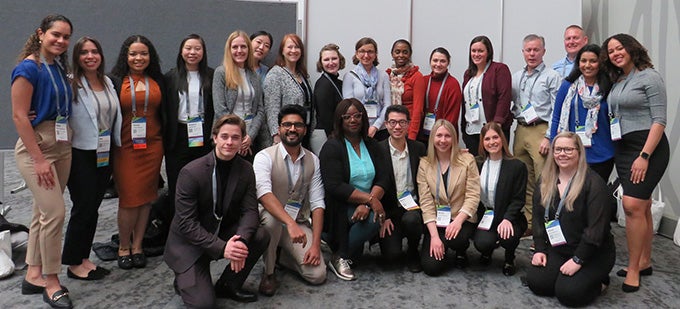 Of particular note, we are proud to announce that our chapter won the "Chapter of the Year" award and earned "Gold Chapter" status! Both these achievements are due to a cohesive team of students and faculty. We fondly reflect on our chapter's strong portfolio of educational events, including resident panels, faculty Q&As, and hands-on teaching experiences!
Here are some meaningful takeaways from the conference
Student Diversity Leadership Program (SDLP)
"It was our privilege to participate in the SDLP at the ADEA Annual Session. Over the two-day period, we actively participated in discussions centered around diversity, equity, inclusion, and belonging; ethics; implicit biases in healthcare; and restorative justice. We would like to thank all the distinguished speakers for educating and inspiring us to make the difference we want to see in the world! We were thrilled to return to our Pitt Dental home with an even brighter passion for seeking social justice in dental education programs and oral healthcare systems."
—Abby Hason (D3), Emyli Peralta (D2), Sonia Chemerisov (D2), and Kevin Lu (D1)
ADEA Council of Students, Residents and Fellows (COSRF)
"Our chapter had an amazing year, where we expanded our presence in the school through our officers' hard work and support from our staff and faculty. Representing our chapter and school at the ADEA Annual Session was an honor! Throughout the conference, we networked with other student leaders, exchanged ideas for continued growth in our respective chapters, and engaged with prominent ADEA leaders about improving learning experiences for students."
—Austin Intrieri (D2) and Jia Kim (D4)
Academic Career Track Area of Concentration (ACT ARCO)
Pitt Dental Medicine's ACT ACRO program is one of the most robust dental academia programs for students interested in education. Students in the program gain experience in all aspects of working in a dental school by taking education and leadership classes, teaching in pre-clinical labs, participating in research, and collaborating with professors across many disciplines.
"It was an invaluable experience to attend the 2023 ADEA Annual Session and have the opportunity to present posters sharing our teaching experiences from the ACT ARCO program! Here, we also received our certificates for completing the ADEA Academic Dental Careers Fellowship Program and had a fun time celebrating with other recipients. Not only did we get the chance to talk about our own teaching paths, but we had the pleasure of meeting other dental students with similar interests in dental academia and learning about their journeys as well."
—Jessica Ho (D4) and Hana Mujkovic (D4) 
Langkamp Allison Award
This award is dedicated to a third-year student who has demonstrated their passion for dental education and commitment to contributing to dental academia in the future. The two recipients of the 2022 Langkamp Allison Award are Katherine Glickman and Nishant Chovatiya.
"We met with several pre-dental students in the GoDental event, attended continuing education sessions prepared by faculties at other dental schools across the nation, and gained the invaluable experience of being in a room full of people dedicated to the integrity of dentistry."
—Katherine Glickman (D4)
Looking Forward
"As we look towards the next one hundred years, we want to graciously thank Pitt Dental Medicine and ADEA for a memorable conference experience. Our chapter had the opportunity to connect with some of the brightest minds and voices in dental education. Together, we can empower the next generation of healthcare professionals to achieve the impossible and make a lasting impact on the world!"
—Taylor Dermond (D1)
Please follow us on Instagram @pittadea for updates about our future events and view some of our pictures from the conference.
Check out photos from the event on our Flickr site.
Additionally, one of our chapter officers, Shivam Khairnar, created a sensational video to showcase our ADEA pride! Check it out here!