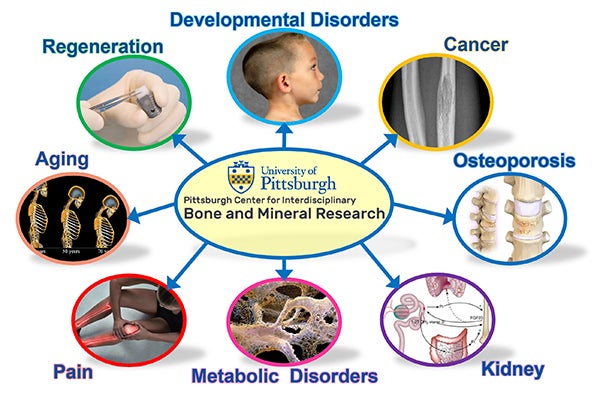 A multidisciplinary team representing faculty from the University of Pittsburgh Schools of Dental Medicine, Medicine and Pharmacy and the Swanson School of Engineering have been awarded $60,000 from the University of Pittsburgh's Momentum Teaming grants program. 
The team, includes seven faculty members: Giuseppe Intini, DDS, PhD, Dobrawa Napierala, PhD and Juan Taboas, PhD (Dental Medicine), Deborah Galson, PhD and Peter Alexander, PhD (Medicine), Shilpa Sant, PhD (Pharmacy) and Partha Roy, PhD (Engineering). 
The award will be used to advance the Pittsburgh Center for Interdisciplinary Bone and Mineral Research (PCIBMR), a 73-member consortium of faculty members whose research interests converge around musculoskeletal disorders, bone injuries, osteoporosis, cancer, and regenerative medicine. The team will organize a multidisciplinary scientific retreat, a hands-on workshop on bioengineered models for bone research, and will develop a Bioengineered Models resource core and a Mechanosensing resource core. 
More information on how to apply to the Office of Sponsored Programs, Pitt Momentum Teaming Grants is available at https://www.osp.pitt.edu/find-funding/internal-funding/pitt-momentum-funds.