Dear Colleagues and Friends of Pitt Dental Medicine,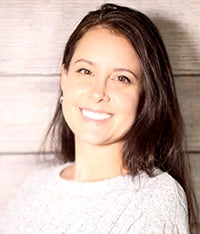 I am pleased to announce that Dr. Mariana Bezamat will be joining us on the faculty as an Assistant Professor at Pitt Dental Medicine in the Department of Oral and Craniofacial Sciences.  Dr. Bezamat brings high-level expertise in genome variations as they respond to environmental and mutational changes, particularly in cancer.  Her ability to collaborate across departments and schools is unique, and we look forward to her enhancing these connections between our investigators and clinical partners across the Health Sciences.   
Dr. Bezamat's research focuses on defining oral disease patterns that are associated with specific genomic and phenomic profiles. She is interested in the field of phenomics, an area of biology concerned with the measurement of phenomes, a set of physical and biochemical traits belonging to a given organism as they change in response to genetic mutation and environmental influences. Her studies focus on how oral health phenotypes and overall health comorbidities of individuals diagnosed with cancer are affected by genetic variation.  
Dr. Mariana Bezamat earned her DDS degree and certificate in Pediatric Dentistry from the Federal University of Rio de Janeiro and a certificate in Endodontics from the Pontifical Catholic University, Brazil. In 2012, Dr. Bezamat received the Science Without Borders Award from the Brazilian federal government. She joined the University of Pittsburgh School of Dental Medicine in 2017 as a graduate student and earned her PhD in Oral and Craniofacial Sciences in 2021. Before completing our program, she received a Fellowship Award from the Clinical and Translational Science Institute (CTSI) and continued working as a TL1 postdoctoral fellow with appointments in the School of Medicine as well as the School of Dental Medicine.  
Dr. Bezamat is a member of the American Association of Dental Research (AADR) and the International Association of Dental Research (IADR). She leads a team of editors for the Dentistry 3000 journal and is a peer reviewer for scientific journals including the Clinical Oral Investigation journal and the Journal of Dental Research Clinical & Translational Research.  She has numerous publications in her area of expertise and is a welcome addition to our increasing portfolio of investigators in this area.   
Please welcome her as she begins this phase of her career as a faculty member at Pitt Dental Medicine.   
Yours in service, 
Bernard J. Costello DMD, MD 
Dean and Thomas W. Braun Endowed Professor 
University of Pittsburgh School of Dental Medicine