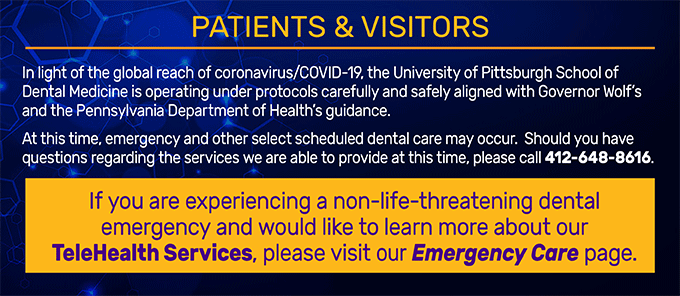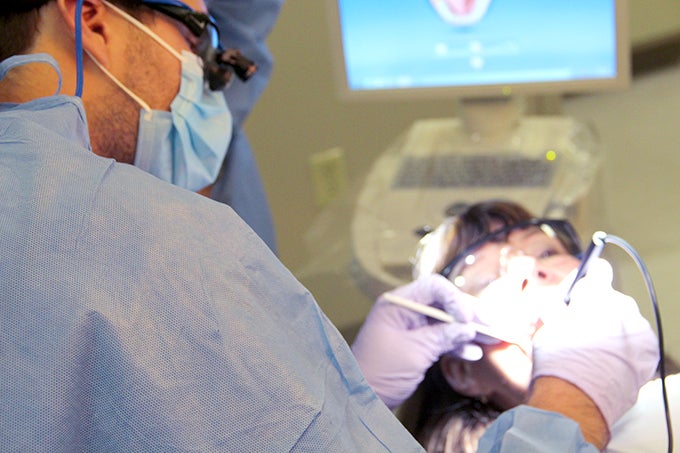 Thank you for choosing the University of Pittsburgh School of Dental Medicine for your dental care.
We make every effort to provide the best treatment possible to our patients and to meet or exceed the profession's standards of care.
The School of Dental Medicine fosters a humanistic environment of mutual respect and trust with its teaching, learning and delivery of patient care. This culture is supported by open communication, emphasizing empowerment, cooperation, collaboration, and strengthening relationships among all members of the School of Dental Medicine community.
Schedule an appointment by calling 412-648-8616
If your child needs an appointment, please call our Pediatric Dentistry clinic directly at 412-648-8930, 8:30 a.m. to 4:30 p.m.
The School of Dental Medicine provides patients with dental care appropriate to educating students in the contemporary techniques of dentistry, regardless of race, religion, gender, age, disability, sexual orientation, or ethnic or national origin.

The mission of the School of Dental Medicine includes providing comprehensive care to a diverse patient population emphasizing health promotion and disease prevention. At the same time, students are educated and prepared to provide treatment that meets the individual needs of the patient using the best scientific evidence available. Your resident/student doctor or dental hygienist relies on your commitment to your treatment plan, not only so you will have the best dental care possible, but so each student can complete necessary educational requirements. Treatment here, which starts with your first appointment, will take a little longer than if you visited a private dental office, but the dental care you receive will meet or exceed the standard of care of the dental medicine profession. Care is provided in accordance with the School of Dental Medicine Standards of Care, the Health Insurance Portability and Accountability Act (HIPAA), and recommendations from the Centers for Disease Control and Prevention (CDC).
 
Patients are seen weekdays, 8a.m. - 4:30p.m. with extended hours until 6p.m. on Tuesdays during the academic year.
Ask about our income-based discounts on selected services.
Comprehensive Care
The School of Dental Medicine believes in the philosophy of comprehensive care. It is a safe and recommended method of oral health treatment for most patients. At least one alternative to your ideal treatment plan (if applicable) will be suggested along with its benefits, risks, and prognosis. Patients will not have the option to select only limited portions of the recommended treatment plan.
Children's Dental Insurance
Obtaining dental insurance for your child may be confusing.  If your child is covered by Medicaid and the Children's Health Insurance Program (CHIP), s/he also has coverage for dental services. Find out more about CHIP for dental services.
Interpreter Services
The School of Dental Medicine utilizes the services of several interpreters. If you require the assistance of an interpreter, please contact the reception desk.
Schedule an appointment by calling 412-648-8616
You may download HIPAA notices here for all of our clinics.
HIPAA Notice of Privacy Practices
HIPAA Notice of Privacy Practices Summary