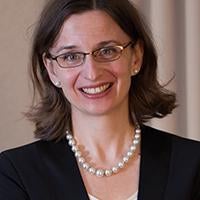 I am delighted to announce that Dr. Zsuzsa Horvath has received the 2021 Chancellor's Distinguished Teaching Award, recognizing the creation of a visionary and innovative program and her knowledge of evidence-based, interactive teaching methodologies, as well as for her exemplary contributions to the University's and our school's educational mission. Dr. Horvath was honored for the development of "the visionary and innovative Academic Career Track Area of Concentration program and your knowledge of evidence-based, interactive teaching methodologies." In his letter to the teaching award winners, Chancellor Gallagher wrote: "As is evident from your positive evaluations, your students and colleagues appreciate your commitment to teaching and creating an engaging learning environment inside and outside the classroom."
Dr. Horvath came to our school with a wealth of teaching experience, and her passion and dedication for teaching stretches back to her graduate training. As a graduate student in Pitt's German Department, she focused on teaching, mentoring and training other teachers. She served as a mentor for teaching assistants and gave numerous teaching workshops at local and national conferences. She received the inaugural Elizabeth Baranger Excellence in Teaching Award, which acknowledges excellence in graduate student teaching. This background allowed Dr. Horvath to bring novel insights and innovations to dental education.
Upon arriving at our school, Dr. Horvath made a number of important contributions to our predoctoral curriculum. She developed a systematic facilitator training for our Standardized Patient Program, in which she also has been one of the core facilitators. She served as course director for the first-year theme courses on professionalism, health promotion and disease prevention, and person-centered care and, in this role, provided instructional design oversight for these courses by creating a uniform learning experience for students. Additionally, she redesigned our first-year curricular module to help students explore cultural differences and their effect on patient care.
Eight years ago, Dr. Horvath created a unique course for dentals students interested in combining dentistry with their passion for teaching. The course, Clinical Teaching Practicum, quickly became a hit among students and faculty, as it helps with the student-instructor ratio and creates a supportive learning environment. This course offered a strong foundation to build upon and ultimately led to the creation of the ACT ARCO program—one of the most robust programs of its kind for training future dental educators, which Dr. Horvath directs along with Dr. Christine Wankiiri-Hale. Last year, the ACT ARCO program received the William J. Gies Award for Outstanding Vision Academic Dental Institution—the highest recognition in dental education.
Additionally, Dr. Horvath has made an impact through her leadership at Pitt and nationwide. As the chair of the Senate Educational Policies Committee, she worked on University-wide initiatives. In the American Dental Education Association, Dr. Horvath served as the chair of the Scholarship of Teaching and Learning Special Interest Group and, currently, she represents our school in the Council of Faculties. Her leadership skills to move forward teaching related initiatives has been recognized by her peers inside and outside of Pitt within the dental education community. Most recently, Dr. Horvath received the 2020 Provost's Award for Diversity in the Curriculum for the development of curricular content to prepare students to respond to inappropriate patient behaviors in a culturally sensitive manner.
Her involvement in education also extends to the scholarship of teaching and learning. Dr. Horvath's has a number of peer reviewed publication in the area of dental education. Her contributions to educational scholarship were recently recognized with the Olav Alvares Award for Early Career Scholars Who Published Outstanding Articles in the Journal of Dental Education. She also served on journal's Editorial Board.
As evidence of her impact, colleagues from other dental schools nation-wide and internationally routinely reach out to Dr. Horvath to consult on teaching related issues and on training future dental educators. For example, in 2018, the University of Sydney School of Dentistry started a collaboration with our school to use the ACT ARCO as a model to create a similar training program. They recently implemented a Clinical Teaching Module , based on Dr. Horvath's Clinical Teaching Practicum course, generating excitement among students and faculty. These collaborations bring recognition to our school and raise our national and international profile.
I am thrilled to witness this recognition for Dr. Zsuzsa Horvath's work and accomplishments. This award is a true testimonial of Dr. Horvath's exceptional skill and innovation in teaching. This recognition would not have been possible without her vision, tireless efforts, dedication, and commitment to our students. Please congratulate Dr. Horvath on this amazing accomplishment.
Yours in service,
Bernard J. Costello DMD, MD
Dean and Thomas W. Braun Endowed Professor
School of Dental Medicine
University of Pittsburgh