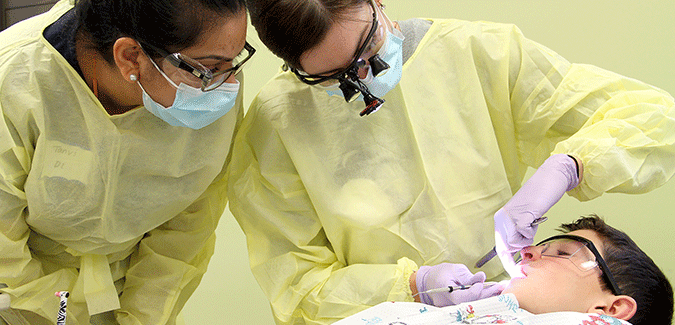 Pediatric dentistry is the dental specialty that provides primary and comprehensive oral health care for children from infancy through adolescence and patients with special health care needs.
Pitt Dental Medicine Department of Pediatric Dentistry accepts referrals from all medical and dental professionals, as well as patient self-referrals.
If you would like to make an appointment, or have a question about your treatment here, please contact our patient care coordinators at 412-648-8930, or visit the Patient Care section of our website for additional information.
Patient Self-Referrals
Patients are welcomed to call 412-648-8930 and schedule an appointment for anyone under the age of 18.
Professional Referrals
Patient who are referred to the Pediatric Dentistry Specialty Clinic, should have their dentist write a letter of referral to our department detailing the referred patient's treatment needs. The letter should contain the nature of the problem and patient contact information, along with any relevant radiographs.
Services Provided by the Pediatric Dentistry Specialty Clinic
The Department of Pediatric Dentistry provides the full spectrum of pediatric care, including sedation dentistry, routine exams and cleanings, restorative dentistry, among other treatments. We also work cooperatively with the other Pitt Dental Medicine Specialty Clinics and can internally refer you to ensure you receive all of the care your dentist recommends.
What to Bring to Your First Appointment
Plan to arrive 15 minutes earlier than your appointment time to complete your medical history.
If you have dental insurance, please bring your insurance information with you.
Upon arrival, please check in at the reception desk and present your appointment and insurance information to the receptionist.
Patients younger than 18 years of age will need the signature of a parent or guardian on required forms.
What to Expect
Your first visit will begin with an examination to develop a treatment plan. Additional appointments can be scheduled at that time.
Fees and Payment Options
We accept Medicaid and a wide variety of other private insurances. Please check with your insurance carrier to verify coverage. Payment options are available and can be reviewed during your appointment.
Learn more about insurance and fees
Department of Pediatric Dentistry
3501 Terrace St.
Pittsburgh, PA 15261
412-648-8930
Learn about Directions & Parking at Pitt Dental Medicine