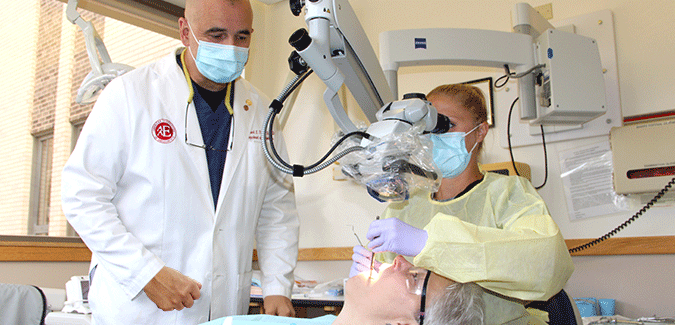 The School of Dental Medicine Endodontic Program was initiated by Dr. Andrew Michanowicz in May, 1969. This fully-accredited, two-year program enrolls four students per year and begins on July 1 of each year.
Each student has his/her cubicle with a fully equipped two-chair surgery suite containing microscopes and a laser. The program has its own dental assistant and conference room and an endodontic research laboratory with computer is adjacent to the clinic. The curriculum is designed to encourage students to explore a wide range of topics while pursuing specialty training. The program helps students develop and master endodontic skills and identify and pursue avenues of interest in relevant basic science.
Goals and Objectives of the Program
Provide teaching and clinical training to pre-doctoral students and specialty residents in endodontics;
Provide endodontic care that is compassionate, comprehensive, and accessible;
Develop and conduct innovative and integrated research activities by members of the endodontics program; and
Actively participate in continuing dental education courses and professional organizations, regionally, nationally, and internationally.
Endodontic Certificate of Completion Requirements
Students must have completed:
250 acceptable conventional root canal cases;
Minimum of 25 surgical cases, with some involving implants, along with 25 assists;
50 cases utilizing warm gutta percha technique.
Student research projects must be sent to publishers before a certificate is provided.
Attendance is mandatory for Endodontic Study Club and continuing education presentations.
Students must participate in continuing education courses.
Students must take the American Academy of Endodontics (AAE) written board in June of their second year, and the oral exam in May of their first and second years.
Admissions
At this time, the Endodontics Advanced Education and Residency Program is only accepting applicants for the program who utilize the ADEA PASS application.
Applications are processed using ADEA Postdoctoral Application Support Service (PASS.) The application deadline is August 1st of the previous year.  Interviews will be granted on a rolling basis. 
For additional information about how to apply to the Advanced Dental Education Residency Program in Endodontics, please visit our Advanced Dental Education Residency Programs general information page.
 Supplemental Application Fee
A non-refundable $50 supplemental application fee is required at time of application.
Stipend/ Benefits/ Fees
Residents in this program receive a yearly stipend. Residents are eligible for the University's student health insurance. Student charges include tuition, instruments, books, and professional fees.
The advanced specialty education program in endodontics is accredited by the Commission on Dental Accreditation (CODA). The Commission is a specialized accrediting body recognized by the United States Department of Education. The Commission on Dental Accreditation can be contacted at 312-440-4653, or at 211 East Chicago Avenue, Chicago, IL, 60611. The Commission's web address is https://www.ada.org/en.