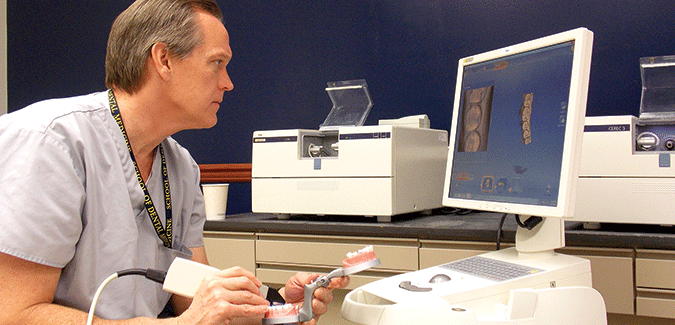 The Advanced Education and Residency Program in Prosthodontics is an American Dental Association-accredited three-year certificate program with the option to complete a master's degree. Students who pursue a master's degree will receive their MDS upon completion of the extra required didactic courses within the three-year limit. The Program's didactic and clinical components are designed to train and equip the graduate to transfer new prosthodontic knowledge and approaches, to implement evidence-based prosthodontic decision-making in clinical practice, and to prepare for certification by the American Board of Prosthodontics.
Program Objectives
Provide clinical training in all aspects of prosthodontics including:
clinical experiences to ensure proficiency in all aspects of prosthodontics;
clinical experiences to ensure proficiency in diagnosis, treatment planning, and management of multi-disciplinary cases;
to recruit and retain faculty with broad and varying backgrounds in clinical prosthodontics, who espouse diverse philosophies in patient care and prosthodontic procedures, and effectively communicate their knowledge and skills to residents.
Provide biologically and scientifically based education in order to:
develop, monitor, and update all prosthodontic seminars and conferences to present contemporary, technologically, and biologically-oriented information;
provide opportunities for scholarly activities, applied research, scientific articles, and clinical and/or research presentations.
Prepare and train residents for a career in prosthodontic practice and/or academics to:
require all residents to complete annual comprehensive examinations (ACP Annual Board Review Examinations);
provide opportunities for completion of a treatment case suitable for presentation to the American Board of Prosthodontics;
provide residents with opportunities to pursue academic degree(s) in related disciplines.
Provide quality and professional care to all patients to:
ensure ethical and professional conduct by all individuals involved in patient care;
ensure proper care of all patients in the prosthodontic residency program;
ensure patient satisfaction with the care they receive.
Program Requirements
The program's clinical components focus on diagnosis, treatment planning, and treatment of edentulous, partially edentulous, and completely edentulous patients. Fixed, removable, and implant prosthodontics constitute the major portion of the clinical training, with occlusion, temporomandibular disorder, and geriatrics as integral components of all phases of care. Residents are required to manage and treat patients requiring complete dentures, removable partial dentures, fixed partial dentures, and implant restorations. Clinical training for residents in implant dentistry emphasizes all aspects of implant treatment including implant placement. Additionally, the program requires the resident's involvement in the treatment of patients with congenital and acquired defects.
Residents enrolled in the Prosthodontic Residency Program must complete the prescribed advanced prosthodontic curriculum and perform required research to submit a research paper.
Prosthodontic Curriculum
The multifaceted prosthodontic curriculum comprises a core curriculum in biomedical sciences for all dental residents and prosthodontic specialty conferences.
The didactic core curriculum and prosthodontic conferences include the following:
Advanced Fixed Prosthodontics;
Advanced Removable Prosthodontics;
Biomaterials;
Implant Surgery and Prosthodontics;
Implant Dentistry Literature Review;
Fixed and Removable Literature Review;
Maxillofacial Prosthetics;
Prosthodontic Treatment Planning;
Multidisciplinary Treatment Planning;
Occlusion and Management of TMD;
Prosthodontic Conferences and Board Reviews.
Application
The ADEA Postdoctoral Application Support Service (PASS) and Postdoctoral Dental Matching Program (MATCH) application or the University's self-managed application are both accepted by the department.  Applications are due by November 1 of the preceding year. 
Supplemental Application Fee
A non-refundable $50 supplemental application fee is required at time of application. Pay Your Application Fee Now
Tuition
Tuition varies from year to year. Current tuition information is available on the School of Dental Medicine Residency Budget page. The advanced education program offers only tuition benefits for Pennsylvania residents who have lived in Pennsylvania for more than one year before the program begins.
Stipend
There currently is a stipend for each year of residency for this program. 
The advanced specialty education program in prosthodontics is accredited by the Commission on Dental Accreditation (CODA). The Commission is a specialized accrediting body recognized by the United States Department of Education. The Commission on Dental Accreditation can be contacted at 312-440-4653, or at 211 East Chicago Avenue, Chicago, IL, 60611. The Commission's web address is https://www.ada.org/en.